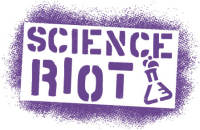 Science Riot 2021!
Scientists Doing Stand-Up?! Real-Life Scientists Try Stand-Up Comedy
Time: 7:00pm Day: Friday Doors: 6:45pm Ages: All Ages / Bar with ID Price: $10
This Event Has Ended
Scientists Doing Stand-Up?!  Real-Life Scientists Try Stand-Up Comedy
Science Riot takes actual scientists, puts them through a crash course in comedy, and then throws them on stage to tell us about their real-life research...using stand-up comedy! 
In partnership with the University of California-Irvine STEM Program, Science Riot is proud to present a brand-new lineup of PhD's, researchers, and post-doc fellows who have used their years of scientific expertise to write some unprecedented punchlines. Join us for a night of laughter, learning, and libations as we delve into science through comedy. 
This is a two-part, hybrid event. On Monday, May 10, we will have an in-person audience to enjoy the show. On Friday, May 14, we will hold a virtual event for those who are unable to attend the in-person show. 
WIth the on-stage talent of Adam Cayton-Holland as our celebrity guest, this event will feature live, interactive presentations from scientists both in-person on the Oriental stage and beamed in from their home bases in order to comply with COVID safety protocols. Audience size will be limited for the same reason. Fans of Science Riot who would prefer to attend this show remotely are invited to join us on May 14 for our digital broadcast of this in-person event.