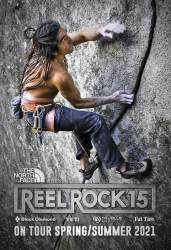 The North Face presents:
REEL ROCK 15
Spring/Summer Film Tour 2021
Time: 7:30pm Day: Thursday Doors: 6:30pm Ages: 18+ / Bar with ID Price: $21

Capturing the greatest stories and sends from the year in climbing, the four new films of REEL ROCK 15 deliver a joyful dose of inspiration, heart and humor. Witness an unimaginable triumph of determination, an epic journey of self-discovery, a magical adventure across the world and a bond-building expedition that forever changes lives.
DEEP ROOTS - 25 mins
Lonnie Kauk's personal journey to honor his indigenous Yosemite roots, and to connect with his legendary father by repeating his iconic climbs. 
ACTION DIRECTE - 20 mins
French powerhouse Melissa Le Nevé spends seven years battling insane moves, inner doubt, and the burden of history to climb the most revered sport route on earth.
FIRST ASCENT / LAST ASCENT - 25 mins
Best friends Hazel Findlay and Maddie Cope journey to the rocky outer reaches of Mongolia, on a quixotic search for new trad routes.
BLACK ICE - 35 mins
A crew of aspiring ice climbers from the Memphis Rox gym travels to the frozen wilds of Montana, where mentors Manoah Ainuu, Conrad Anker and Fred Campbell share their love of winter adventure in the mountains.