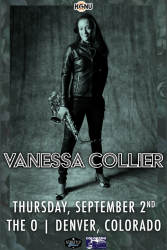 KGNU Presents
An Evening with Vanessa Collier
Time: 7:30pm Day: Thursday Doors: 7:00pm Ages: All Ages / Bar with ID Price: $28
This Event Has Ended
"A young woman named Vanessa Collier has issued her first album called HEART SOUL AND SAXOPHONE. She wrote all but two of the songs, sings 'em, and plays some magnificent sax as well. Coming out of the famous Berklee School of Music in Boston, Vanessa spent some time on the road with bluesman Joe Louis Walker, among others, and is now poised to unleash herself on the world. Old school blues, jump and jive, and some sunny new school R&B"
— The BluesMobile (Elwood's Blues Breaker - House of Blues Radio)
"Vanessa Collier is the coolest young artist on the scene today; when she is on stage, all eyes are on her. Vanessa's incredible talent, stage presence, and enchanting personality have made her one of the most important tastemakers of her generation. "
— Stephen Webber, Berklee/The Scratch Ambassadors
"Vocalist, saxophonist Collier has an alluring voice and style that covers a lot of territory: blues rock, funk and soul blues, and soft soul jazz. Her sax playing is solid as well. She composed half of the songs on this disc and offers some convincing covers particularly "I Can't Stand The Rain" and "God Bless The Child". Collier is a promising newcomer. Check her out on this debut and keep an ear out."
— Dave Rogers, WTJU 91.1 FM
"This record completely caught me off guard and it floored me"
— Johnny Fulltime, Fulltime Blues Radio
Vanessa Collier is a captivating and multitalented blues vocalist, saxophonist, and songwriter, hailing from the world-renowned Berklee College of Music where she earned dual degrees in Performance and Music Production & Engineering. Prior to releasing her debut album in August 2014, Vanessa spent a year and a half touring in the U.S. and internationally with Grammy Award-winning, Blues Hall of Fame Artist Joe Louis Walker. Vanessa has also played alongside Annie Lennox, Kathy Mattea, Willie Nelson, and other notable artists. 
Most recently, Vanessa was honored on Dan Aykroyd's House of Blues Radio Show (Elwood's BluesMobile) as a Best of 2014 Blues Breaker Featured Artist. She was also selected as a top three finalist in the John Lennon Songwriting Competition and, in March 2015, earned a coveted spot to compete in the International Blues Challenge in Memphis, Tennessee in 2016 by winning the Billtown Blues Challenge.
On her debut album, heart soul & saxophone, Vanessa demonstrates her skills as a master musician and songwriter, blending her blues background with elements of funk, rock, and soul. Vanessa's powerful vocals, gritty saxophone solos, and incredible high-energy performance create a powerful show not to be missed!