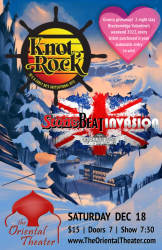 Knot Rock & Stone Beat Invasion
Two Headliners - One Night!
****Denver City Ordinance: Proof of Covid Vaccination required for entry****
Time: 7:30pm Day: Saturday Doors: 7:00pm Ages: All Ages / Bar with ID Price: $10 - $90
This Event Has Ended
-"Knot Rock" is Colorado's Yacht Rock / AM Gold / Softsational genre band playing the best era of music... soft rock romantic hits from the 1970's to the early 1980's. Our nostalgic experience features amazing harmonies with male and female lead singers that will take you back in time while reminding you of that boxed wine while getting cozy with your special someone next to the fireplace on the bear skin rug. Come aboard our musical yacht and sail off into the sunset with Knot Rock!
​Formed in 2016, we took to the stage in October 2017 and brought our brand of nostalgia to many notable stages across Colorado ever since. We have had the band Ambrosia endorse us, Christopher Cross give us a nod and Jock Bartley from Firefall join us on stage while jamming their hits "You Are The Woman" and "Mexico." 
​Our fans are the absolute best! They come dressed in full nautical / retro gear... just to witness the fans is worth the price of admission!  We provide free captains hats at our ticket events... be sure to get one!
​Knot Rock is fully equipped for any event. We can provide full production and sound to make your event as special as possible so you can be sure while you party on the Lido Deck, the trek back to the Captain's Quarters ends flawlessly!
-Stone Beat Invasion electrifies the crowd with their powerful delivery of hit catalogs, masterfully capturing the energy of The Rolling Stones and The Beatles.
Relive the legendary music of these two iconic bands. Pulling from decades of chart toppers, Stone Beat Invasion delivers an epic rock n roll experience!
"The only person better than Bobby at being Mick Jagger is Mick Jagger." - Alan Sperry
"This is the real deal. Bar owners, if you want something different, old school, this is it! Beatles and Rolling Stones." - Robert Kirk