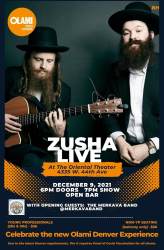 Zusha Live with Olami Denver Experience
****Denver City Ordinance: Proof of Covid Vaccination required for entry****
Time: 7:00pm Day: Thursday Doors: 6:00pm Ages: 18+ / Bar with ID Price: $36 - $300

These are the first words that come to mind when trying to describe Zusha's world-bridging music and message. Creatively weaving the lyrical light of ancient Jewish wisdom and poetry together with 21st century vessels of expression and artistry —  each song and performanceis an offering, an opening, an opportunity to connect and commit to that deepest point of authenticity within. For those who truly believe that music is medicine, Zusha is a veritable dispensary.
The band itself, led by singer Shlomo Gaisin and guitarist Zacharia G., is appropriately named after an iconoclastic 18th century Hasidic master, whose teachings of radical humility and irrepressible positivity resonate deeply with the duo. Reb Zusha's unique path of self-reflection and refinement is best summed up in a well-known story: On his deathbed, Zusha confided in his gathered students and friends that ultimately after all was said and done, he was not concerned whether he had been as kind as Abraham or as wise as Moses, but rather he was most worried that he had not been enough like Zusha! With this lamplighting message of personal honesty and spiritual authenticity, Zusha seeks to sing the world awake. In their own words, their music is meant to inspire each and every person to: Be yourself, no one else can.
In different ways, both Shlomo and Zach came to this inclusive worldview and inspiring work honestly. Each of their journeys led them through a diverse labyrinth of creative influences, from jazz to folk to electronica, before finding themselves most fully alive and aligned in ecstatic, spiritual Jewish community. At just the right moment their distinct paths merged in the fabled East Village of New York City, while still in college. Introduced by a like-minded mutual friend, they wrote their first song the first time they met. Following this initial spark, they couldn't help but continue to explore their creative connection. From singing around Shabbos tables to their first house-shows, they and others around them began to get the feeling that something special was happening. It wasn't long before a close friend pushed them to share their music with the world in a more serious way. Their first show at the Mercury Lounge was sold out with lines around the block. And that was just the beginning! Ever-inspired and in love with the world, they have continued traveling the globe, bringing their heart-opening music and message to swelling crowds on multiple continents.
Throughout the years, Zusha has gone through numerous phases of self-discovery and creative experimentation — and there is no sign of them slowing down. In 2014 Zusha released their first self-titled EP to wide acclaim. This was followed in quick succession by their first full-length release, Kavana, in 2016, and another EP, A Colorful World, in 2017.  What started as a fun way for a few friends to pass the time and bring people together in harmony, has evolved into a life's work defined by an uncompromising commitment to artistic excellence and unwavering spiritual authenticity. Now in the Fall of 2019, amidst the backdrop of tremendous loss (the passing of Shlomo's father) and miraculous joy (Zacharia becoming a father), Zusha is set to offer their latest, most mature and crystallized musical gift of love and light to a world on the brink of madness, When the Sea Split. In times like these, when brother is being turned against brother and there are more walls than windows separating us from ourselves and from each other, Zusha's music is just what the soul-doctor ordered — a spiritual soundtrack for redemption on every level and in every land and heart.