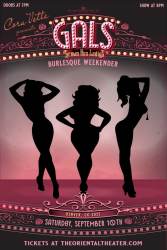 Cora Vette presents
G.A.L.S. Grown Ass Ladies Burlesque Weekender
Time: 8:00pm Day: Saturday Doors: 7:00pm Ages: 21+ Ages Price: $25 - $150
This Event Has Ended
Grown Ass LadieS doing what they do best: burlesque, comedy, singing, dancing and 100% celebrating women!
National and International burlesque stars from all over the US and Canada are coming to Denver to behave like Queen-Agers! In a society that undervalues women who are of a "certain age" this show intends to unapologetically smash what you think women "over 40" are. We are your friends. We are your mentors. We are aging loudly and proudly so our sisters can join us! 
The GALS Weekender was designed to celebrate all women who, like a fine wine, have aged to perfection. We hope you will join us because we are not going away. We are hot, we are sexy, and we are awesome. 
We are going to show you that women do not have an expiration date!! 
*VIP tickets allow for early entry between 6:30-7pm, so that you can grab the best seats and a drink before the GA crowd arrives
Anita Brassiere - Las Vegas, NV
Bea Trouble - Tucson, AZ
Bella Fire - Denver, CO
Colorado Flower - Colorado Springs, CO
Copper Flame - Colorado Springs, CO
Cora Vette - Las Vegas, NV
Foxie Dreame - Colorado Springs, CO
Frenchie Renard - Milwaukee, WI
Gigi O'Lovely - Cocoa Beach, FL
Kay Chula - Boise, ID
Lady Monster - San Francisco, CA
Lady Peacock - Denver, CO
Lady Sapphire Noir - Los Angeles, CA
Lily Star - Las Vegas, NV
Lolita Haze -  Las Vegas, NV
Mickie Sinn - Austin, TX
Miz Charlamay - Las Vegas, NV
Mz. Juicy Jones - Los Angeles, CA
Pixie O'Kneel - Italy, TX
Remi Martini - Austin, TX
Sepia Jewel - San Diego, CA
Susie Sweet Cheeks - Vancouver, BC