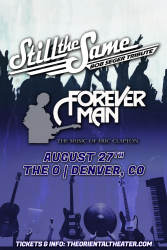 Forever Man - Celebrating the Music of Eric Clapton
Still the Same - A Bob Seger Tribute
Time: 7:00pm Day: Saturday Doors: 6:30pm Ages: All Ages / Bar with ID Price: $15 - $90

**Forever Man celebrates the music of the legendary Eric Clapton, one of the most important and influential guitarists of all time. The only three-time inductee to the Rock and Roll Hall of Fame, Clapton has built a career as a guitarist/singer/songwriter that has spanned more than five decades and has produced an immense catalog of songs known and loved by generations including "Sunshine of Your Love," "Layla," "I Shot the Sheriff, "Wonderful Tonight" and more!
**Still The Same is a Colorado-based Bob Seger Tribute that performs the timeless roots-rock hits of Detroit singer-songwriter-musician.
Led by Glenn Vigil as Bob Seger, the band is comprised of respected veterans of the Colorado musical circuit.
Over six decades, Seger and his backup bands, including the Silver Bullet Band, landed 31 hit songs on the Billboard Hot 100 and sold over 75 million records worldwide. He was inducted into the Rock and Roll Hall of Fame and the Songwriters Hall of Fame.
Still the Same balances its Seger set with fiery roots rockers ("Katmandu," "Her Strut," "The Fire Down Below"), melodic masterpieces ("Still the Same," "Mainstreet," "Against the Wind"), garage psychedelia ("Ramblin' Gamblin' Man"), introspective anthems ("Turn the Page," "Travelin' Man"/Beautiful Loser"), and the bedrock classic "Old Time Rock and Roll."