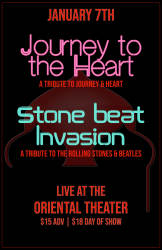 Journey to the Heart (Journey & Heart!)
Stone Beat Invasion (Beatles & Stones!)
Time: 7:15pm Day: Saturday Doors: 6:30pm Ages: All Ages / Bar with ID Price: $15 - $100
This Event Has Ended
Journey to the Heart is a merge of 2 great bands.  Dreamboat Annie-A Tribute to Heart, one of Denver's longest running Tributes fronted by one of the best Ann Wilson impersonators there is, the incredible Sonya Leigh Surrett.  And Worlds Apart, A Tribute to the Music of Journey.  Fronted by the amazing Ryan Smiley,  her huge voice and stage presence is spot on. This show just rolls from one #1 hit to another, From Crazy on You to Separate Ways, Magic Man to Don't Stop Believin'. Barracuda to Who's Crying Now. 90 minutes of Rock n Roll from 2 amazing singers and a band full of energy and great talent. 
Stone Beat Invasion has been honoring the music of The Beatles and Stones across Colorado with unmatched energy and devotion to the power of rock and roll for over seven years. Stone Beat Invasion electrifies the crowd with their powerful delivery of two hit catalogs, masterfully capturing the energy and spirit of the Rolling Stones and Beatles.
Pulling from decades of chart toppers Stone Beat Invasion delivers an epic rock n roll experience that draws on the nostalgia of the 60's, 70s and 80s transporting listeners to a bygone era of rock and roll excess, fashion and timeless riffs. No set is ever the same as this group is able to pull on deep cuts and whole album sides at a moments notice.  Relive the legendary music of two of the most iconic bands in music history with Stone Beat Invasion.