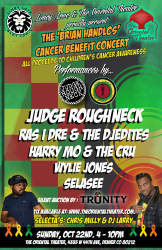 The Brian Handlos' Cancer Benefit Concert
Judge Roughneck, Ras I Dred & the Djedites
Harry Mo & the Cru, Wylie Jones & Selasee
Time: 4:00pm Day: Sunday Ages: All Ages / Bar with ID Price: $20 - $150

Showing love for our brother 'Brian Handlos' of 'Judge Rough Neck', whom is recovering from surgery of Kidney Cancer.
We proudly present a concert is his name to benefit children's cancer awareness.
Brian is clear of cancer and is on a steady recovery path back to wellness.
Our local community of artists has come together to put on a concert to gather the people together and enjoy a day/evening of reggae/ska music.
All ticket sales will go to a foundation / charity of Brian's choice, for children's cancer awareness.
Please support the cause and join us all for some amazing music and positive vibes.
A silent auction will also be held by Trunity (Truth In Unity), auctioning off some reggae artists product swag, of which all proceeds will also support the cause.
Bring your dancing shoes and feel the vibes of positive collective music.
Love is the answer, music is the healer!