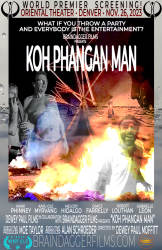 Koh Phangan Man
Time: 7:30pm Day: Sunday Doors: 6:30pm Ages: All Ages / Bar with ID Price: $10
This Event Has Ended
Koh Phangan Man is an inspiring and celebratory documentary film about Mark Phinney, a Burning Man organizer who sets out to produce an international burn in Thailand. The film explores the unique philosophical and artistic approach of Phinney and how it transforms the lives of a small group of organizers who work with him.
The film is emotional, encouraging, and uplifting in tone, and follows the organizers through the behind-the-scenes process of creating an event in a foreign country. As they face a variety of obstacles, including bad weather and strange happenings, the central conflict and question emerges: will the festival be a success, and is it a good idea to throw a Burning Man in Thailand?
Through interviews and footage from the actual events, Koh Phangan Man shows how personal transformation and radical inclusion are at the heart of Phinney's vision. The film is a testament to the power of art, community, and human connection to create something truly special and transformative.
What makes this film unique is that it was accidentally made by first-time director Dewey Paul Moffitt, who was on assignment to film b-roll for a separate project but was so inspired by the journey that he felt compelled to document the story of Koh Phangan Man. The result is a documentary that captures the spirit of a unique event and the people who made it possible.